Kentucky Derby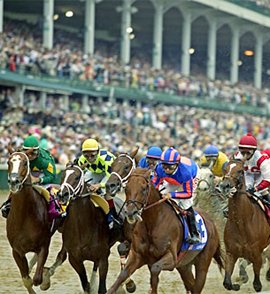 Horseracing has been called the Sport of Kings, and the American version is The Triple Crown. The Triple Crown consists of the Kentucky Derby, The Preakness, and The Belmont Stakes. If you are a horseracing fan they are not to be missed. The jewel in the crown is the Kentucky Derby which is attended by A-list celebrities, royalty and heads of state alike.
The Kentucky Derby is considered "the fastest two minutes in sports". It is the premium, event in horseracing circles. The jewel in the crown of the Triple Crown. Empire Entertainment has premium ticket packages, top-notch hospitality packages, luxury accommodations, and transportation packages that will reflect the majesty of this great event.
Call 1-800-725-0112 to request more information about this event. Or fill out our Quote Request Form to select custom or multi-event services.